制作通风管道的材料都有哪些?
  在济南通风管道的加工中有很多材料可供选择,但常用的还是几种材料,今天来介绍一下通风管道的材料:可用的管材有钢、胶合板、纤维板、砖和混凝土。薄钢板是常用的材料,它分为普通钢板和镀锌钢板两种,一般通风空调系统的厚度为0。5 - 1。5毫米钢板。PVC板也可作为风管材料使用,它清洁、无尘、耐腐蚀,在净化空调工程中有时也使用。但它的成本和建筑安装成本都很大。近年来,玻璃纤维板管材经表面处理后,既有隔音又有保温效果。
  There are many materials to choose in the processing of Jinan ventilation pipeline, but there are still several kinds of materials commonly used. Today, I will introduce the materials of ventilation pipeline: steel, plywood, fiberboard, brick and concrete. Thin steel sheet is the most commonly used material. It is divided into two kinds: common steel sheet and galvanized steel sheet. The thickness of general ventilation and air conditioning system is 0. 5 - 1. 5 mm steel plate. PVC board can also be used as air duct material. It is clean, dust-free and corrosion-resistant. It is sometimes used in air-conditioning projects. But its cost and installation cost are very high. In recent years, after surface treatment, fiberglass board pipes have both sound insulation and heat preservation effects.
  1. 薄钢风管。采用低碳钢制造薄钢板通风管道效果较好,冷轧钢板适合通风空调工程。
  1. Thin steel air duct. It is better to use low carbon steel to make ventilation pipe of thin steel plate, and cold rolled steel plate is the most suitable for ventilation and air conditioning engineering.
  厚度是1。厚度小于2mm的薄钢管应采用咬口连接,厚度小于2mm的薄钢管应采用焊接连接。根据有关规定,当矩形风管边长≥630mm,保温风管边长≥800mm时,管段长度为1。以上2mm均应采取加固措施。风管一般采用角钢加固,边沿采用高接头(垂直咬口)或风管壁上滚沟加固。风管与风管的连接通常采用角钢或扁钢法兰。
  The thickness is 1. Thin steel pipes with thickness less than 2 mm should be joined by bite, and thin steel pipes with thickness less than 2 mm should be joined by welding. According to the relevant regulations, when the length of rectangular duct side is more than 630 mm and the length of insulation duct side is more than 800 mm, the length of duct section is 1. Reinforcement measures should be taken for the above 2mm. Angle steel is generally used to reinforce the air duct, and high joint (vertical bite) or groove on the wall of the air duct is used to reinforce the edge. The connection between air duct and air duct usually adopts angle steel or flat steel flange.
  镀锌钢管。施工时应注意镀锌钢板,以免镀锌层被损坏,应采用咬合和铆接。
  Galvanized steel pipe. During construction, attention should be paid to galvanized steel sheets to avoid damage to the galvanized coating, and occlusion and riveting should be adopted.
  3、不锈钢板风管。加工过程中,应保护板材表面不受划伤、划伤、压痕等缺陷的影响,不得用锤子敲打,以免损坏合金元素的晶体结构,否则在被锤子敲打的地方会出现腐蚀中心。当管壁厚度大于0时,不锈钢具有较高的强度和良好的弹性。在8mm时,焊接一般采用厚度为0的焊接。8mm以下采用咬合接头。不锈钢风管连接采用法兰,一般是将不锈钢板切成条状,矩形法兰可根据尺寸焊接,圆形法兰则采用冷弯法加工。
  3. Stainless steel plate air duct. In the process of processing, the surface of plate should be protected from scratches, scratches, indentations and other defects, and hammers should not be used to knock, so as to avoid damaging the crystal structure of alloy elements, otherwise corrosion centers will appear where hammers knock. When the wall thickness is greater than 0, stainless steel has high strength and good elasticity. At 8mm, the thickness of welding is usually 0. The occlusal joint is used below 8mm. The stainless steel air pipe connection adopts flange, which generally cuts the stainless steel plate into strips. The rectangular flange can be welded according to its size, while the circular flange is processed by cold bending method.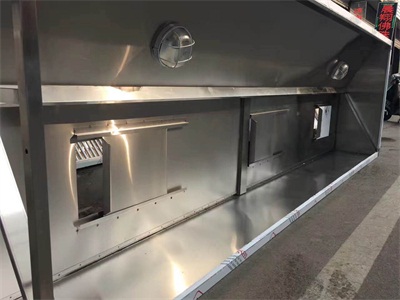 4. 铝管。摩擦时不产生火花,常用于防爆通风系统中。
  4. Aluminum tube. Friction does not produce sparks and is often used in explosion-proof ventilation systems.
  风管咬合成型应尽量采用木锤或木方尺。为避免咬合变形,好采用机械成型。当铝板厚度大于1时。5mm时可采用气焊或氮气电弧焊。
  Wood hammer or square ruler should be used as far as possible in air duct bite synthesis. In order to avoid occlusal deformation, it is better to adopt mechanical forming. When the thickness of aluminium plate is greater than 1. Gas welding or nitrogen arc welding can be used for 5 mm.
  铝及铝合金与铁、铜等金属接触会产生电化学腐蚀,因此,铝盘管应尽量采用铝法兰;如果使用普通角钢法兰,应进行镀锌或防腐保温处理,铆接应采用铝铆钉。
  Aluminum and aluminium alloy contact with iron, copper and other metals will produce electrochemical corrosion. Therefore, aluminum flange should be used as far as possible for aluminium coil. If common angle steel flange is used, zinc plating or anti-corrosion and heat preservation treatment should be carried out, and aluminum rivet should be used for riveting.
  5、复合管。常用于对防尘要求较高的空调系统和-10℃-70℃的防腐系统风道。这种风管在加工时注意不要破坏塑料层,其连接方法只能是咬合和铆接。
  5. Composite pipe. It is often used in air-conditioning systems with high dust-proof requirements and air ducts of anti-corrosion systems with temperature ranging from - 10 C to 70 C. This kind of air duct should not destroy the plastic layer during processing. The connecting method can only be occlusion and riveting.
  硬PVC塑料板风管。硬聚氯乙烯塑料具有良好的化学稳定性,对各种酸、碱、盐稳定,但对强氧化剂和浓硝酸、发烟硫酸、芳香烃和氯化烃不稳定。
  Hard PVC plastic sheet air duct. Hard polyvinyl chloride plastics have good chemical stability and are stable to various acids, alkalis and salts, but unstable to strong oxidants and concentrated nitric acid, fuming sulfuric acid, aromatic hydrocarbons and chlorinated hydrocarbons.