通风管道安装作业的一些原则介绍
(一) 作业条件
(1) operating conditions
1、 一般排风机体系和空调体系的设备,要在修建物围护结构施工完,障碍物已清 理,地上无杂物的条件下进行。
1. The equipment of general exhaust fan system and air conditioning system should be carried out under the condition that the building enclosure structure is completed, the obstacles have been cleared and the ground is free of impurities.
2、 对空气洁净体系的设备,应在修建物内部设备部件的地上做好,墙面已抹灰完 毕,室内无尘埃飞扬或有防尘办法的条件下进行。
2. The equipment of the air cleaning system should be done well on the ground of the internal equipment parts of the building, the wall has been plastered, and the indoor dust-free or dust-proof measures.
3、 一般除尘体系风管设备宜在厂房的工艺设备设备完或设备根底己断定,设备连 接器、罩体方位已知的情况下进行。
3. The air duct equipment of general dust removal system should be carried out when the process equipment and equipment of the workshop are finished or the equipment base has been determined, and the position of the equipment connector and cover is known.
4、 查看现场预留孔洞方位、尺度应契合图纸要求,每边比实践截面大100mm。
4. Check the location and scale of the reserved holes. The scale should conform to the drawing requirements, and each side is 100mm larger than the practice section.
5、 作业地址要有相应的辅佐设备,如梯子、架子、安全防护、消防器材,并有施 工员的技术、质量、安全交底。
5. The work address should have the corresponding auxiliary equipment, such as ladder, shelf, safety protection, fire fighting equipment, and the technical, quality and safety of the builder.
通风管道安装
Installation of ventilation ducts
(二) 资料要求
(two) data requirements
1、 各类板材、管材等应有质量证明文件(包含出厂合格证、质量合格证明及检测 陈述等)和产品清单。
1. All kinds of sheets and pipes should have quality certificate documents (including factory certificate, quality certificate and inspection statement) and product list.
2、 风管制品不允许有变形、歪曲、开裂、孔洞、法兰掉落、开焊、漏铆、漏打螺 栓孔等缺点。
2. No distortion, distortion, cracking, hole, flange drop, open welding, leak riveting, leak bolt holes and other shortcomings are allowed in air duct products.
3、设备的阀体消声器、罩体、风口等部件应查看调节设备是否灵活,消声片、油
3. The valve body muffler, hood, tuyere and other parts of the equipment should check whether the regulating equipment is flexible, silencer, oil
漆层有无损害。
Whether the paint layer is damaged or not.
4、 设备运用的资料:螺栓、螺母、垫圈、垫料、密封条、自攻螺钉、拉铆钉、电 焊条、各种帆布、无纺布、射钉、膨胀螺栓等应契合产品质量要求。
4. Equipment application information: bolts, nuts, gaskets, gaskets, sealing strips, self-tapping screws, pulling rivets, welding rods, all kinds of canvas, non-woven fabrics, shooting screws, expansion bolts should meet product quality requirements.
(三) 安装机具
(three) installation of machinery and equipment
手锤、电锤、手电钻、手锯、电动双刃剪、砂轮锯、角向磨光机、台钻、电气焊具、扳手、改锥、手剪、倒链、高凳、大绳、尖冲、射钉枪、刷子等。
Hand hammer, electric hammer, electric drill, hand saw, electric double-edged scissors, grinding wheel saw, angle grinder, table drill, electric welding tool, wrench, taper change, hand shear, inverted chain, stool, rope, sharp punch, nail gun, brush, etc.
二、通风管道安装技巧
Two, ventilation pipe installation skills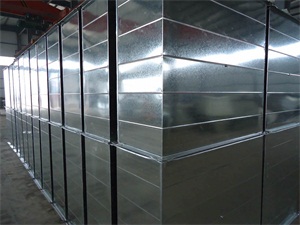 通风管道在现代修建上的运用越来越科学,在施工过程中整体准则是小管让大管:小管绕弯容易,且造价低,这种准则便是躲避准则。信任很多人对通风管道工程中的躲避准则不清楚。
Ventilation pipes are used more and more scientifically in modern construction. In the construction process, the overall criterion is that small pipes make large pipes: small pipes bend easily, and the cost is low. This criterion is the evasion criterion. A lot of people believe that the avoidance criteria in ventilation piping engineering are not clear.
通风管道安装注意事项
Matters needing attention in installation of ventilation pipes
1、小管让大管:小管绕弯容易,且造价低。
1, the small tube allows the big pipe: the small pipe is easy to turn around, and the cost is low.
2、分支管让主干管:分支管一般管径较小,通风管道工程躲避理由见第1条,别的还有一点,分支管的影响范围和重要性不如主干管。
2. Branch pipe to main pipe: Branch pipe generally smaller diameter, ventilation pipeline engineering evasion reasons see Article 1, there is another point, the influence of the scope and importance of branch pipe is not as important as the main pipe.
3、有压管让无压管(压力流管让重力流管):无压管(或重力流管)改动坡度和流向,对活动影响较大。
3. Pressure pipe to pressure pipe (pressure pipe to gravity pipe): Pressure pipe (or gravity pipe) to change the slope and direction of flow, the impact on the activity is greater.
4、常温管让高(低)温管(冷水管让热水管、非保温管让保温管):通风管道工程高于常温要考虑排气;低于常温要考虑防结露保温。
4. Normal temperature pipe let high (low) temperature pipe (cold water pipe let hot water pipe, non-thermal insulation pipe let thermal insulation pipe): Ventilation pipeline project above normal temperature to consider exhaust; below normal temperature to consider anti-condensation insulation.
5、给水管让排水管:除了上述第3条原因外,一般排水管管径大,且水中杂质多。
5. Water supply pipe to let drainage pipe: In addition to the above reasons for the third article, the general drainage pipe diameter, and water impurities.
6、低压管让高压管:高压管造价高,且强度要求也高。
6. Low pressure tube allows high pressure pipe: high pressure pipe has high cost and high strength requirement.
7、气体管让水管:水活动的动力耗费大。
7, gas pipes make water pipes: the power of water activities is expensive.
8、一般管道让通风管:体积大,绕弯困难。
8, the general duct allows ventilation pipe: large volume, difficult to turn around.
9、金属管让非金属管:金属管易弯曲、切开和衔接。
9, metal pipes allow non-metallic tubes: metal pipes are flexible, cut and connected.
10、阀件小的让阀件多的:山西油烟净化体系考虑设备、操作、维护等要素。
10. Small valve parts and more valve parts: Shanxi oil fume purification system considers equipment, operation, maintenance and other elements.
This article is published by Jinan exhaust hood, do you know something about these contents? For more information, please click: http://www.jnqsg.com, we will have more exciting content for you to see.